This rant is from an email sent to my research group. It seems that some of us have been asking questions like, "What can I do with a climate model that has not already been done?" If this is the question we are asking, then we are asking the wrong question.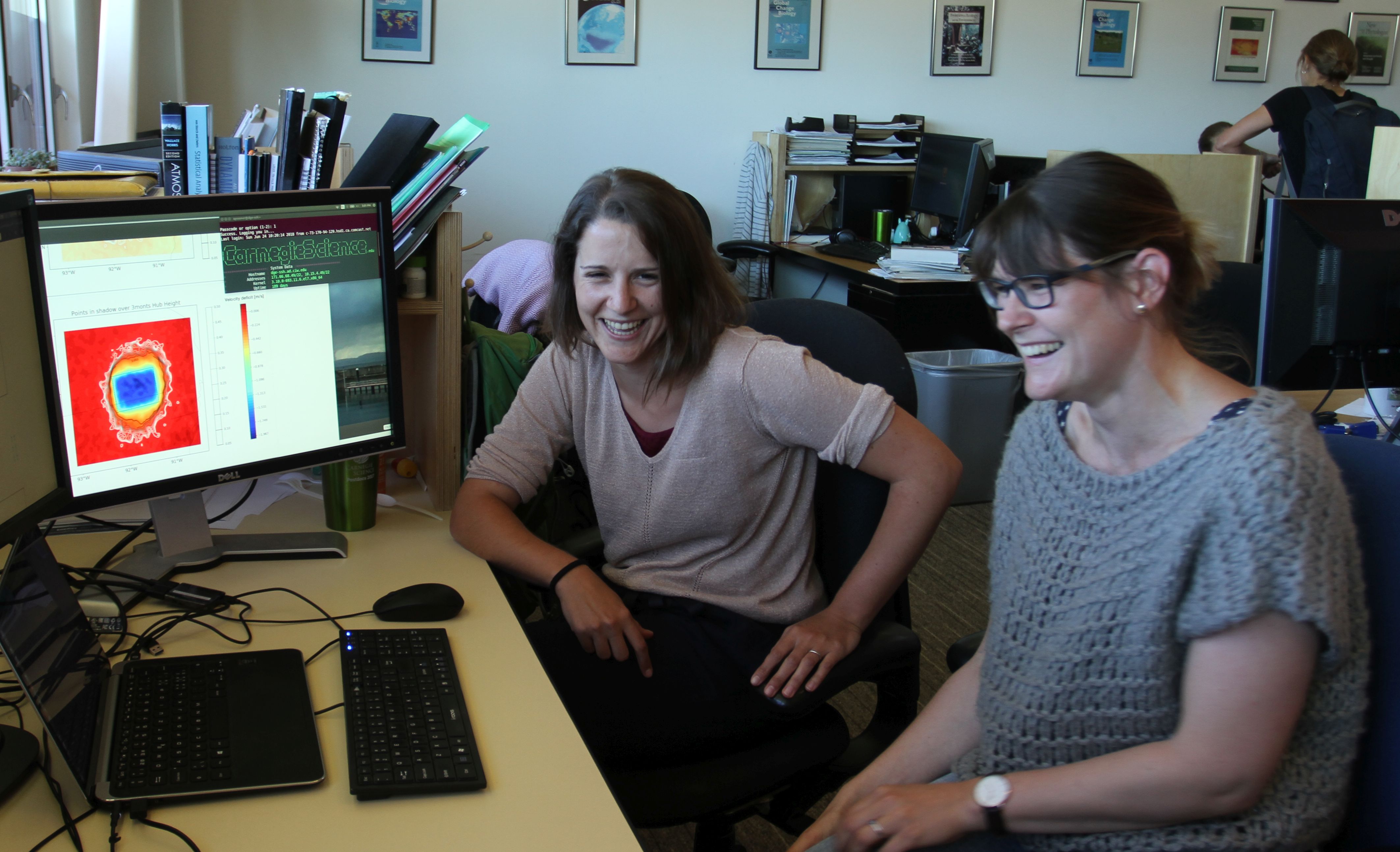 Carnegie postdocs Clara Garcia-Sanchez and Anna Possner using fluid dynamical models to investigate geophysical limits to wind power.
Most people in the world are focused on solving pressing problems (how to provide for their families, how to get access to health care, etc). Most people are faced with pressing problems that they have to solve, not problems they choose to solve.
Some people approach their scientific or technical work choosing to focus on pressing problems ("What can I be doing to most effectively help a transition to a clean energy system?") but other people approach their work thinking, "I have a hammer; are there any nails around that I might be able to hammer on?" — Or even worse, "Are there any nails around that other people have already whacked at, but that I might be able to give another whack or two?"
If you are not working on a problem that you feel is important and pressing, then you are probably working on the wrong problem. (The reason the problem is important could be for fundamental scientific understanding, and not necessarily utilitarian concern.)
It is important to start with the problem, not the tool.
Once you have identified the problem, then your experience with specific tools might inform how you can most effectively contribute to problem solution, but the starting point should be the problem, not the tool.
---
An intermediate position is to ask: What are the important problems that this tool could contribute to solving? Realistically, this is where we are with much of our work.
The main point is: If you are having trouble finding important problems to address with the tools you already know how to use, that is probably a sign that it is time to learn to use new tools. (This is why I have been learning about economics and energy system modeling.)
You should not just address ever more arcane and irrelevant problems using the tools you already know how to use.
---
In short:
The world is replete with pressing problems. If you are not working on at least one of these problems, there is a good chance you are wasting your time and you should be doing something else.


If you have recently gotten your PhD or will get your PhD within the next year or two, and are interested in trying to address important problems using new tools or approaches, please apply for a postdoc job in my group.